West Coast Leather Fashion History
Videos From our 20 Years in Business
Italian Leather Clothing Designed & Handcrafted in California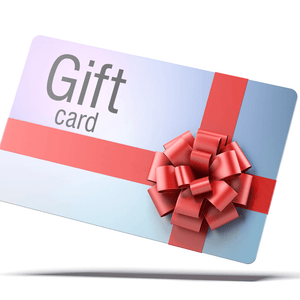 West Coast Leather offers gift cards for its leather clients from around the world who would like to share the...
Learn more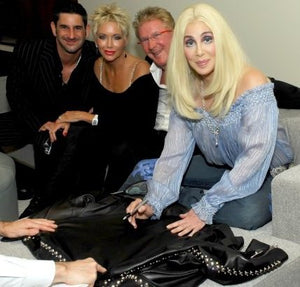 Actress & Singer Cher
Cher signed our custom-designed West Coast Leather Black Leather Studded jacket from the "Turn Back Time" Video with Swarovski Crystals for the Operation Helmet Charity Fundraiser. This jacket is on display at our only USA location in San Francisco.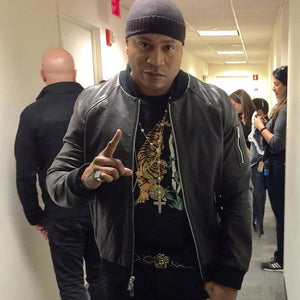 Iconic Celebrity LL Cool J
LL Cool J in our men's Black Leather military bomber jacket backstage for an awards show in Hollywood, California
See who've dressed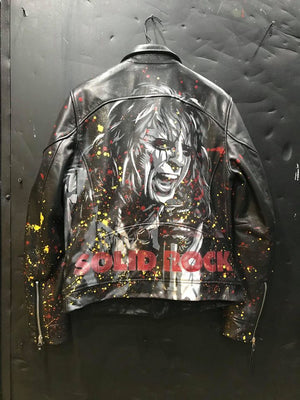 Rock & Roll Legend Alice Cooper
Alice Cooper's Solid Rock Foundation Charity Donation by West Coast Leather and Celebrity Artist Blake Jamison that he painted. Also, attendee from the Eagles Band Guitarist & singer Don Felder purchased to help raise funds for the Solid Rock Yearly Golf charity for at-risk youth in and around Phoenix, Arizona Area for over 15 years consecutively
More info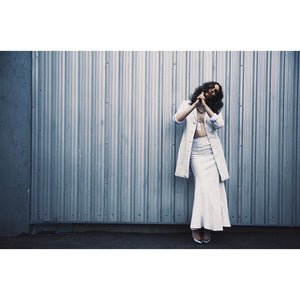 Collaboration for Vogue Magazine with Candice Cuoco
Designer Candice Cuoco first started her production for her collections with Fashion Director Skip Pas in 2015 and later appeared on Project Runway. This photo was requested by Vogue Magazine to show how we had one design from Candice and One from West Coast Leather which was our long white leather seven eights coat and her skirts with a flair and fantail made the magazine. Thanks to Candice for adding us to all her fashion that year stories and editorials that year.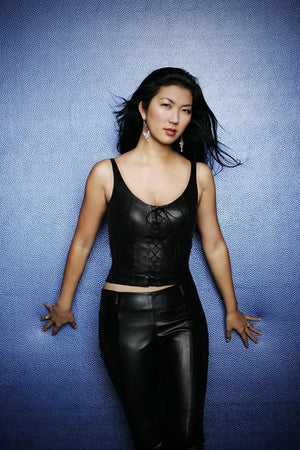 The Black Widow Jeanette Lee
Billiards Women's Champion Jeanette Lee AKA The Black Widow, here in Black Leather pants, leather tank top and her famous black leather dress, has appeared on many sports channels as well as her website. She looks like a Superstar to us.
I stumbled upon this place about 10 years ago on a family visit to San Francisco with my wife. Immediately we fell in love with all the amazing and unique styles of leather wear and also their roque casual clothing. Needless to say anytime I'm in San Francisco (now not married) I still go and visit Skip and Joe and never leave without something. I've been treated with amazing service and wouldn't shop ANYWHERE for any leather attire. A fiancé and ex girlfriend later all have been placed in some of the most amazing pieces. This is a must stop if your looking for the real deal unique cut leather attire. Their detail is one of perfection if you have an idea in mind. I just got (quickly shipped) an amazing light leather coat that Skip hand designed and a beautiful custom tailored coat for my girlfriend. Thank you always guys
Richard P.
Excellent customer service. Came and brought a suede jacket that had tore on the arm. We were helped by Yvette and she was amazing. Super friendly, super informative and upfront, and gave great recommendations. The whole store is huge and has so many different leather options to shop from. I would definitely come back here again!
Clayton N.
Amazing leather products and friendly staff. I love how they showcase local artists! Please don't forget to tour their museum. They have been in SF for 65 years!!!
Devry Dhandae
I love West Coast Leather! They are always friendly, have a great selection and are focused on making the customer happy. They also do great tailoring work - my wife and I have had many pieces (including a tux, dress, dress shirt, blazer) brought in for tailoring and they do a fantastic job. Thumbs up - love these guys!
Sam F
West Coast Leather did a custom leather coat for me and it was fantastic! I constantly get compliments on it. They're service was second to none and they really cared about my needs and wants for a custom coat. The new store is bright and roomy, a big improvement over their previous location. Joe, Yvette, and Skip were real professionals as well. I've bought from them for my wife and she loves their choices for ladies too. You will not be disappointed!
Shogun 181
Flagship Store San Francisco
West Coast Leather since 2003
2060 Union Street, Suite 1
San Francisco, CA 94123
(415) 362-8300
westcoastleathersf@gmail.com
Sunday - Thursday: 12:00 to 6pm
Friday & Saturday: 10:00 to 7pm
Also Open by Appointment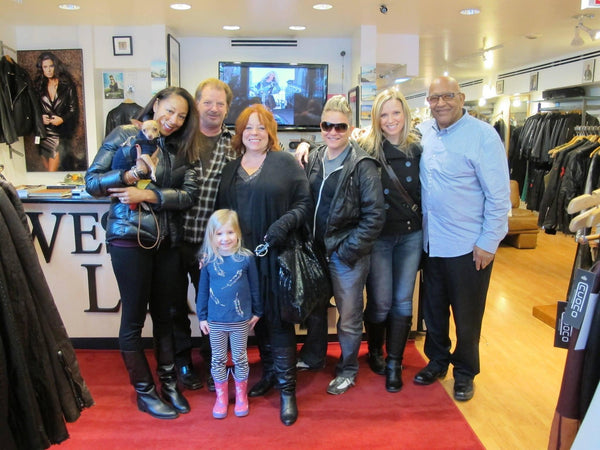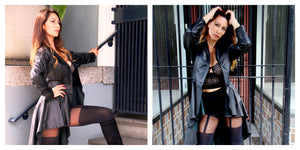 Trunk Shows Every Saturday at West Coast Leather
Fashion Designer @ Brand Founder Skip Pas hosts trunk shows every Saturday at his boutique store location at 2060 Union Street in San Francisco California during the month of August showing the 2023 first look at the New Black Leather Library Collection Catalog
Learn more